EXECUTIVE PASTOR CLINTON B. ARNOLD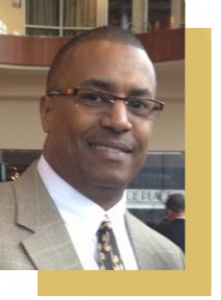 In 2012, Clinton B. Arnold answered the call to serve in a leadership role at Abundant Life Ministries and was ordained as Executive Pastor in December 2014. He is responsible for the church operations and also Multimedia, Children's Ministry, Deacons and Ushers.
Clinton Arnold has a BA in Communications from the University of Kentucky, an MBA from the University of Charleston and is a graduate of the University of Maryland Executive Leadership Program and the Center for Creative Leadership Executive Leadership program.
Mr. Arnold has over 25 years of extensive experience and success in senior leadership positions in corporate America developing people, sales, marketing, operations and support teams. His key skills include strategic and tactical planning and transforming low/underperforming teams into high performance teams. His other strengths include communications, change management, leadership development, business and financial analysis, corrective action plans and performance leadership.
In 2013, he created CT Arnold Enterprises Inc. and purchased AAMCO Transmissions and Total Car Care Franchise in South Charleston, WV. The company also includes a real estate portfolio and ownership of a food truck. He also serves on two non-profit boards in the Charleston area.
He is married to his college sweetheart and love of his life, Trina, and they have two wonderful and accomplished adult children and four beautiful grandchildren!